This week we had a special meeting with Ashram's Indian band members. However, not all former musicians had time, so Saju Nivas and Sooraj Santhosh couldn´t join that evening. It was a very beautiful evening. We looked back at our shared moments in a relaxed atmosphere. Also, we talked about a possible reunion of Ashram.
Often we get asked the question why we cannot continue with Ashram. My personal view: This transcontinental band project was or is very difficult to finance. We loved making music together, but all bandmembers always had to spend money on it. On our last tour in 2011, on the way to the airport, we came in a very long traffic jam, we missed the flights of the three Indian musicians. Then we had to book another three new tickets, although we already had a broken bank account anyway. At that time, we organized two spontaneous "flying charity concerts"where our friends, supporters and families gave us a lot of support to minimize our financial loss. At this point I would like to thank for all the help with those who have assisted us with ticket sales, concert visits and other support over the years at the Bandprojet Ashram!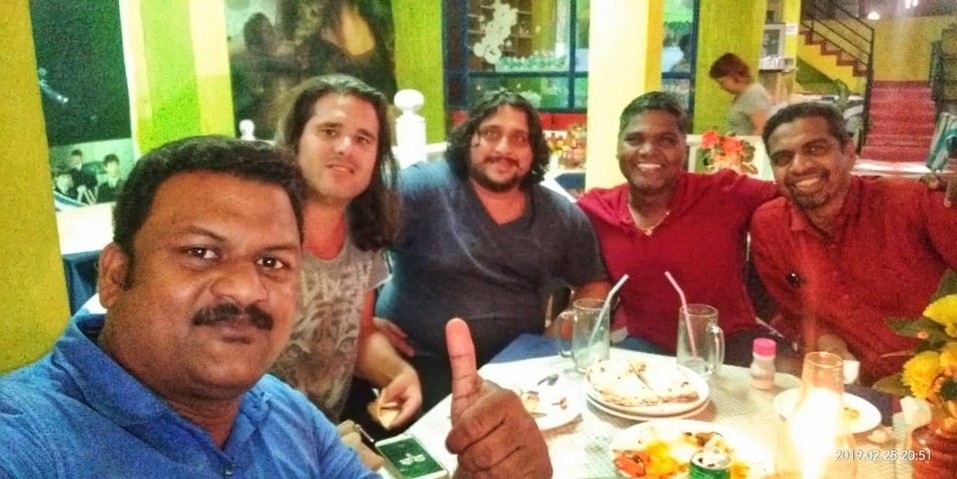 What about the public perception of the second Ashram Album?
Someone once asked me why the professionally produced album "Prison without walls"by Grammy Award winner Thom Russo and the pre-contract with Universal music did not work out as supposed. Here I would also like to make my personal statement: The album was produced with Thom Russo and then released independently. Concerning to Universal music we had a precontract, which was coupled to an Austrian music promotion (Link:
https://www.musikfonds.at/
). We applied several times back then, but never received the promise. In the period 2009 – 2010, where we applied, bands like Bilderbuch, Russkaya, Rauhnacht, Herbstrock, etc. receive the funds. I still remember the year 2009. Back then, when the now famous in Europe band
Bilderbuch
was still a school band and we met them at their concert in the castle Weinberg in Linz / Upper Austria. They were very impressed by our band project, since we worked with the world-famous producer Thom Russo and also had contacts to record companies like Sony and Universal Music Austria. Nevertheless, our intercultural band project had still no financial basement.
Although we were rejected twice, Harry Gruber of Universal Music still gave us the confidence and we went into a third application. But this time we asked the Musikfonds for an appointment with Big Boss Mag. Harald Fuchs.
He then told us that he personally loved our band Ashram.
He said he often heard our first album while cooking at home. And he explained why we have always been rejected: "This is a jury decision and in principle no information is given in case of rejection of a project. But I can tell you, that the project has to less relation to Austria. "
Honest answer of the person in charge.
That answer was very disappointing for us at the time. We considered whether Manuel might sing in German in the future. At that time, the reasoning was incomprehensible to me. Today, I respect the decision and think that the jurors certainly did not have an easy job either. However, I would like to mention that other bands were still promoted, even though they sang in English and submitted with private labels and unknown producers. In my opinion, we were with Universal music, Thom Russo and our special style of music and so fulfilled many more application criteria for the music promotion institution than other bands at that time.
I think that we were ahead of our time back then. At that time, the deciding jury did not see the chance of India (one fifth of the world's population). We were one of the first bands who made proper rock music as a fusion band in India. Today there are many rock bands, and the young, Indian generation is discovering and loving Rockmusic. We were pioneers and already implemented the vision in 2004. At our concert in Trivandrum / India, we had an audience of 3,000 people, even though we had no management or subsidy budget to support us.
This article is a personal concern to me as we have invested a lot of time, money, and energy in Ashram. Therefore, I ask for your understanding, that I wrote this article very emotionally. But likewise, maybe it had a good reason, that this project failed. In life we will never know if it's good or bad, when we cannot enter a door, that we want. Maybe back then I should have named myself "Seidl Seppn", which is a typical Austrian nickname, to fulfill the criteria of the Musikfonds…