Hi Ludo, I have seen "Yo Soy El Indigo" on YouTube. Over 60.000 views in a month are a great response.
The lyrics for this song were originally written following the assassination of George Floyd in May 2020 in Minneapolis. We couldn't breathe either. Indignant by the police violence of the last demonstrations in France, I needed to write down my anger and make it musical.
People who have lived through oppression have often shown throughout history an indestructible force that has united them. History often records that of the victors, while it is the fight of the vanquished, who never surrendered, which has marked an essential part of all our lives.
These three entities, these bits of life, these three parts of the world, these three characters who represent Latin America, India and the African continent tell us about their linked destinies.
A bond, a fusion, and a final elevation through this color.
On your homepage I read that you are working on your fourth album. Can you tell me something about your history?
We are all 4 from Toulouse (France) but it was during a trip to the north west of Argentina that we wanted to train the Cuarteto Tafi. We wanted to bring our touch personal and original to world music by mixing singing in poetic and committed Spanish - sweet nostalgia for the Argentinian exile of singer - to the sound of the eastern Mediterranean of the Greek bouzouki, to the softness and dexterity of the flamenco guitar and the rhythms bewitching Afro-Latin percussions.
Each with our history and influences of metal, salsa, flamenco, rock. Of our different personalities and musical histories, we have created an entity, 4 albums and a notoriety noticed in the national scene.
With the new album AMANECER (spotify link), our musical style is decompartmentalized, uninhibited,
propels and frees oneself: an original fusion between music with Latin American influences and sound arrangements modern. More current and ambitious than ever, the songs on this album resonate like a hymn to life and its essential joys. We fly from the shores of the Mediterranean to those of the Pacific Ocean and, along the way, we encounter what humanity has most profoundly: love, exile, revolt, or friendship.
How long are you playing together?
We've been playing together for almost 10 years!!!!!!!!!!!!
What have been deepest emotions in you band history?

Each album is a strong, deep story that is different from the other. The composition is the result of personal research at the beginning but which, by sharing it with the rest of the group, becomes collective and much richer. Our human and musical relationships are constantly evolving, enriched by what we go through as a human and an artist.
How come you to the idea to use the fantastic Greek instrument "Bouzouki" on your tracks?
I met the bouzouki during my first trip to Greece. I, who played the guitar, fell directly in love with the sound, the form, and the history of this instrument. When we decided to form Cuarteto Tafi our idea was precisely to mix cultures, sounds. Bouzouki has therefore found its place in this project!!
Which types of rhythmic instruments are you using?
Our percussionist uses several instruments: Cajon, Bongos, Congas, Tom Bass, Cymbals, shaker, sometimes Bombo (Argentinian percussions), chekeré. For the Amanecer album we have added Pads allowing it to trigger electronic sounds.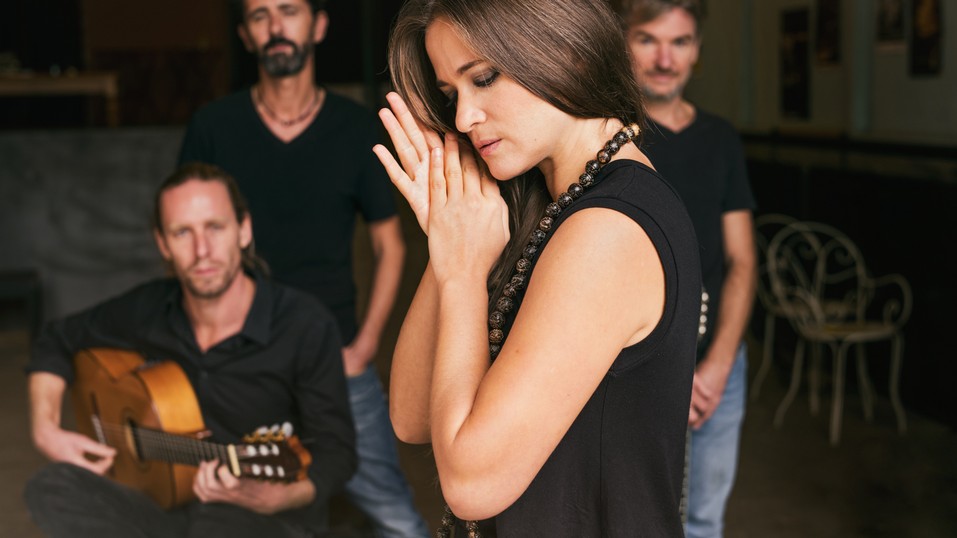 fotos (c) Ludo,
Cuarteto Tafi
We love world connecting projects! Where did you play already? When are you planning your next live concerts?
Until now we have played mainly in France, but we have just met turners from Latin America. I hope (when the situation permits) that we will have the opportunity to play in another country. Here is the AMANECER tour:
08 July – Espace Larreko – Saint pée sur Nivel (64)
10 July – Montricoux (82)
11 July 2021 – Festival Bissy sous les étoiles – Bissy sur Fley (71)
14 July 2021 – Festival Au coeur de l'été - Amiens (80)
15 July 2021 – Beaurain (59)
16 July 2021 – Nogent le Rotrou (28)
18 July 2021 – Festival de Robion (84)
22 July 2021 – Jardins Bonnefoy – Toulouse (31)
23 July 2021 – Festival El mediodia – Corbarieu (82)
24 July 2021 – Festival Ô Merle – Le Vigan (30)
25 July 2021 – Les scènes vertes – Goudourville (82)
01 August 2021 – Jardin des plantes – St Cyprien (66)
02 August 2021 – L'Oasis du Gaifé – St Jean de Laure (46)
12 August 2021 – Lavaur (81)
03 September 2021 – Festival Festi Céou – Concorès (46)
05 September 2021 – Jardin musical – Bouloc (31)
10 September 2021 – St Cyprien – Toulouse (31)
02 October 2021 – Théâtre Municipal Cornillon – Gerzat (63)
10 October 2021 – Théâtre du cloître – scène conventionnée – Bellac (87)
15 October 2021– Salle du Pigeonnier – Frouzins (31)
16 October 2021 – Revel (31)
17 November2021 – Université – Montpellier (34)
25 November 2021 – Bibliothèque du Périgord – Toulouse (31)
26 November 2021 – Le petit Kursaal – Besançon (25)
05 February 2022 – Théâtre municipal - Roanne (42)
We would love to see you life! Thank you so much for the interview!
fotos (c) Ludo, Cuarteto Tafi