This time I want to interview the Fusion Band Gharana!
Hi Susnata!
From where are you and your Band members? Is it right that you are an Indian-Russian Fusion band?
I am from the city of Calcutta (east India),
our flutist - Gurpreet Singh (from Punjab, INDIA),
our bassist - Ekaterina Aristova (from St. Petersburg, RUSSIA),
our percussionist - Argha Dey (from Assam, INDIA)
We do not have any country-oriented approach. At present, it is an Indo-Russian combination, but again in near future, another musician might join from another country. We only focus on the nice enjoyable presentation, carrying the true essence of 'Music'.
I like this attitude! Can you tell me something about your band formation, who is playing which instrument?
Gharana Fusion band was formed by me and late Probir Narayan sir, in August 2006, while we used to work at BIRLA educational organization in Calcutta. He used to play Tabla, Pakhawaz, Khol and sometimes on semi-classic vocals. Together, we have performed in various arts and music festivals, cultural centers, signature events, corporate and college shows, theatre background score etc., in many Indian cities and other foreign countries. There have been few musicians changes in course of time and sad demise of Probir sir in 2021. But now we are with a great lineup.
Susnata Har (ethno guitar, backing vocal),
Gurpreet Singh
(alghoza, bansuri, sarangi, melodica, ocarina, dizi, vocal)
,
Ekaterina Aristova
(contrabass)
,
Argha Dey (tabla, khamak, cajon, djembe, cymbals, cheek-beats, bols)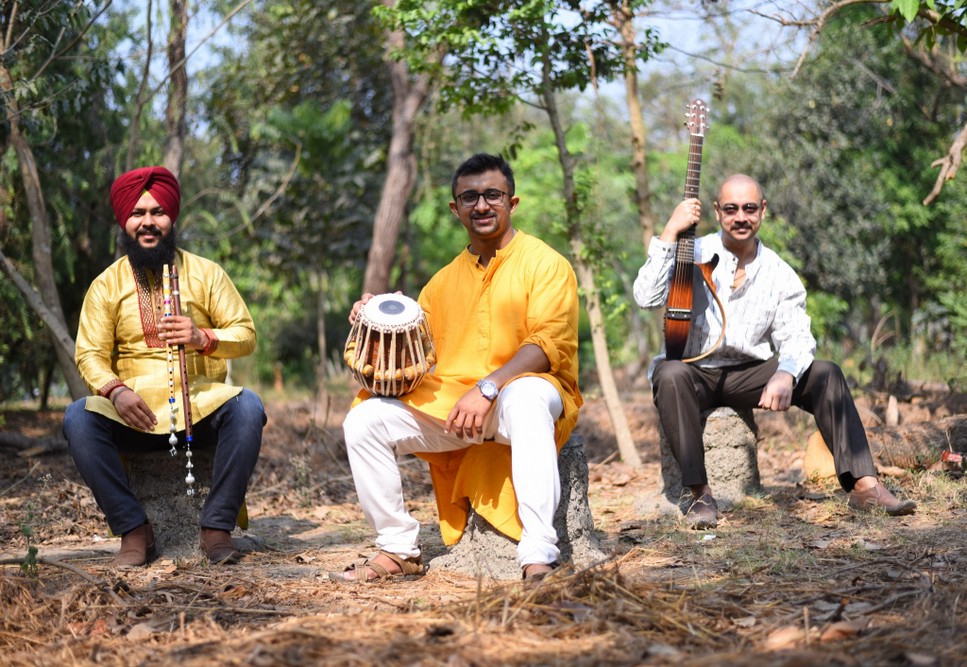 Does your Band name Gharana has its roots in the Hindustani music. Do you play in the way of Indian Ragas or are your song composed through? Do you use also Carnatic elements?
Our band name 'Gharana Fusion' has the Indian Classical music's term of 'Gharana'. But we do not play pure classical. As we are born and brought up in India, listening to the legends of Indian Classical music, so we are inspired by their playing and in many ways our compositions have a mixed-feel of the Indian Ragas. We do not have any particular Carnatic element in our music. We have huge respect for the pioneers and legends of both the Hindustani and Carnatic domains.
All our compositions are originals, composed over the years and played from our heart.
Susnata, on your website there is a quote from Prem Joshua. There he said that especially the sitar player has a very nice touch, and that the fundament of your sound are your beautiful musical ideas. How do you create ideas?
Mother Nature is our teacher. We love travelling to different places, mountains, forests, lakes, seaside and riding my bike, crossing river streams, eating at roadside small-shops, meeting new people, knowing the history of their lands and experiencing new cultures and traditions. All these inspire us a lot. And finally, the vast expanse of the nightsky, the darkness-feel when we sit on the rooftop, gazing at the stars...brings out some unique musical ideas.
I am really impressed! I know that is the right way of making music!
On the song "Royal Embrace" you have a very special guitar sound? What is the name of this guitar and how do you create such an oriental style?
The guitar I play is known as the 'Silent Guitar', manufactured by YAMAHA. It is an amazing guitar. Moreover, I experiment a lot with different effects (delay, chorus, harmony etc.) to design the perfect sound which matches the theme of any composition. Once I delve into the theme, automatically different combinations start taking place.
'Royal Embrace' song started developing long time back, while I used to do some humming according to my inner feelings. This song has Sawal-Jawab (instrumental question answer) and Jugalbandi (unison), well accompanied by Gurpreet's Bansuri and EWI tonality, resulting in the eccentric oriental flavor.
What is your most famous song? What was the inspiration for this song and where did you record it?
There are quite many famous songs of our band, namely, 'Tides of Time', 'Ray of Hope', 'Dariya', 'Ecstasy', 'Bagmati', 'Nightsky', 'Through the Veil', 'Colors of Meera', 'Storm Dance', 'Armani', 'Dard-e-Wafa', 'Flights of Fantasy', 'Royal Embrace'.
As I said, Mother Nature is our greatest inspiration. We recorded few in India and some in Armenia (East Europe) and in Latvia and St. Petersburg also.
Listening to your music makes me feel of in hypnosis? Can you explain your feelings while playing this style! Are you completely in a flow?
Thanks for your appreciation of our music style :)
Yes, while playing, we all are in a flow, sometimes happy, sometimes energetic, sometimes soothing and heart-touching etc. An interesting aspect about our music is that all the compositions have evolved over many years, say for last 10-12 years...the more they evolved, the more richness got added with our playing expertise and thorough research.
On your Facebook site I found that you got Airplay on Radio Agora 105,5 an Austrian Radio station! Do you have worldwide connections or is there a link to Austria from your side?
Yes, our music gets airplay in many radios worldwide and we get nice magazine reviews. We are thankful to all the radio presenters, hosts, and the music journalists.
We do not have any direct connection to any radio station. Just that, our music connects us with our well-wishers and fans in different nations.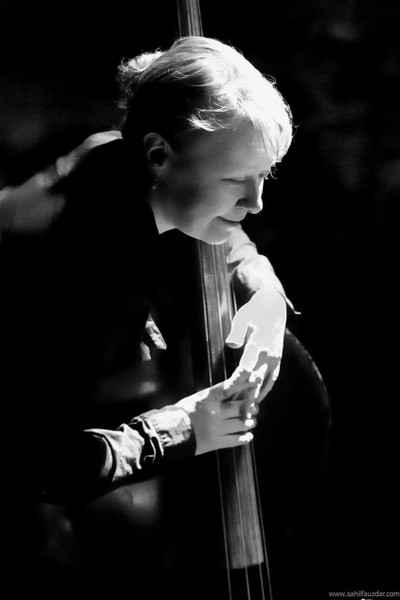 What are your next concerts? What are your upcoming projects?
We have some upcoming Europe/Russia concerts in 2022, along with some concerts in South India.
We are presently working on our next album 'Tale of the Nightsky' and we have an aim to stage that in some great cultural centers.
We very much hope that the Coronavirus scenario will improve after 2021.
Thank you so much for this interview!