Night Voc - on a journey through sleepless gray nights
Ashram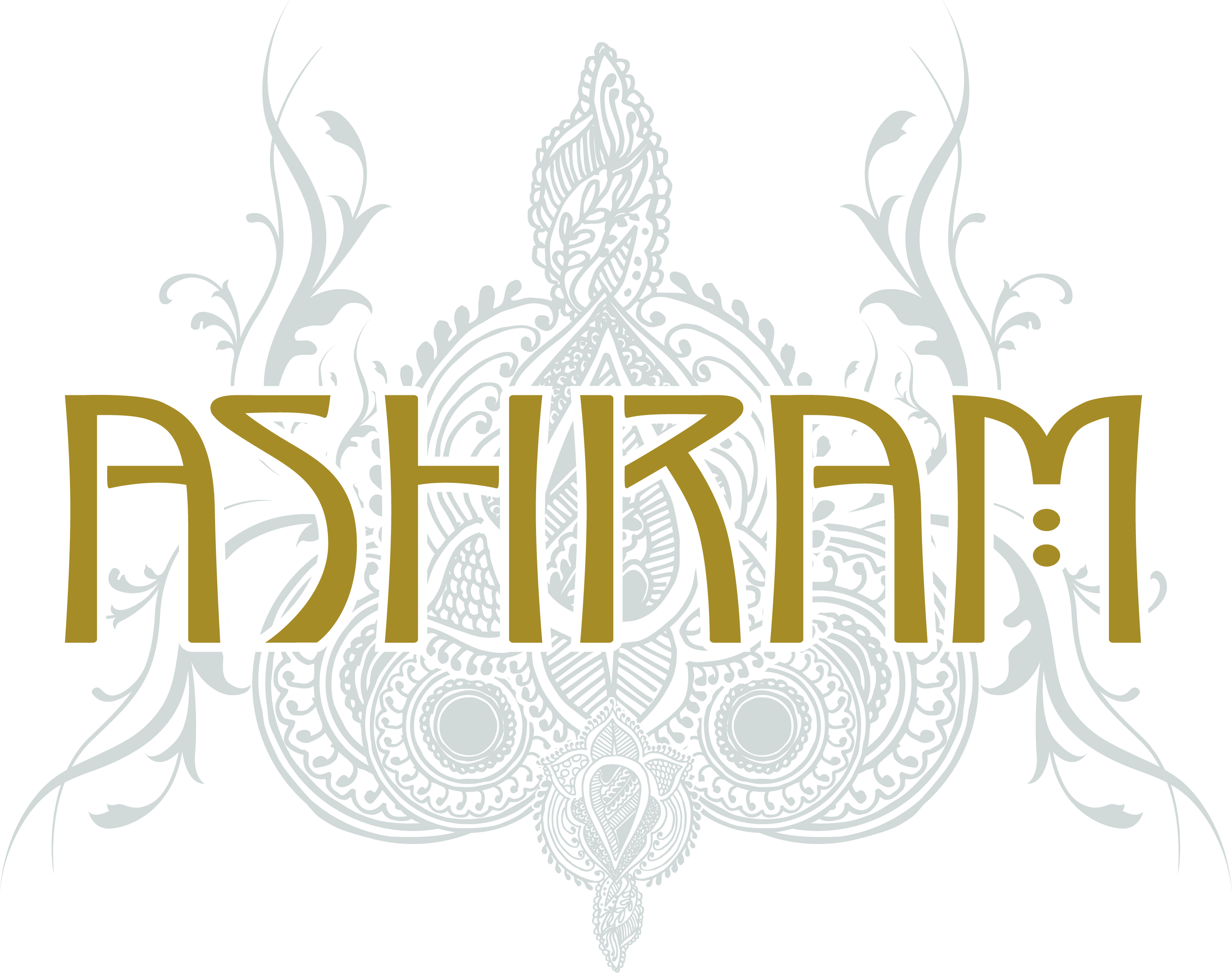 You are a Rockband from Linz (Austria). Why did you choose rock as your music style and where are your musical roots?
"Rock" comes really naturally for all of us 6 musicians, because that's the kind of music we enjoy! Even though one might prefer metal or progressive or pop, we bring it together in our own style and try to create something that we all will love to play! At the core of our sound are our two female lead singers, who sometimes remind people of bands like "Heart", but interestingly, this was not a direct inspiration for us. After all, we don't intend to fit a certain genre and enjoy experimenting with all kinds of directions.

Can you tell us something about your band members? How did you come together?
The band name alone started way back in the 80s as "U.Voc". Our keyboarder Manfred kept band projects under similar names rolling over the years until 2016, when the band as we know it now started to form - with Thomas on drums, a true rocker with a latin heart and our (secret?) metalhead bassist Reini who never passes on a catchy ballad. Singer Michi was only 16 when she started as front woman and developed the staple harmonic voices with another former singer. With Lisa joining in 2018, we got a second strong and unique voice that is very different from Michis and a lot of fresh creative input. Our latest addition to the group is guitarist Gernot, who convinced us with his versatile sound and great intuition when it comes to arranging a variety of songs.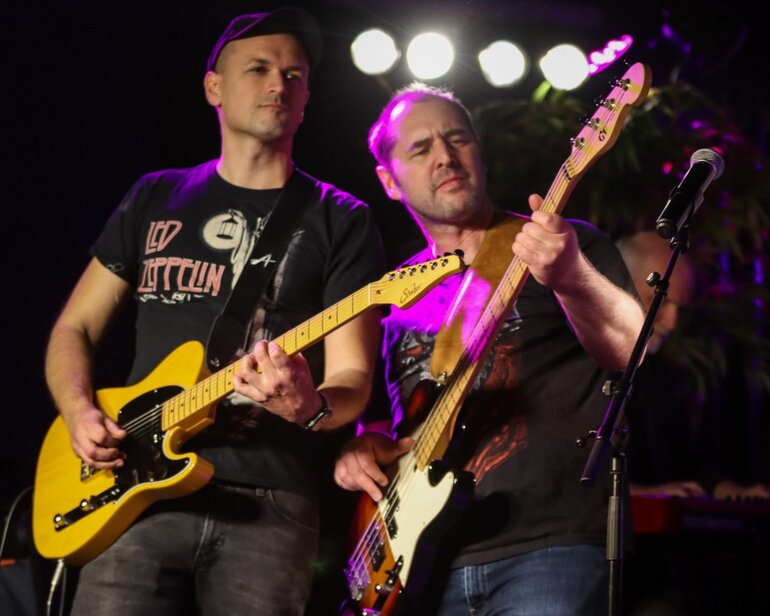 Your song "Sleepless" is very nice and interesting. Great that the song shows the lyrics on your YouTube channel, but "Gray Nights" I don't understand the lyrics exactly. Can you tell us something about this lyric lines of that song?
Thank you! "Gray Nights" is a song by Lisa, which shows her indie influences in the lyrics and themes quite a lot. It's about a transformation, an important event that permits you to "feel life rush through the veins of time", so really live in the moment, an equally sacred and animalic pursuit. The sacred shows in the lyrics ("life and death are battling in their golden halls") and the animalic wolf's howl is the other essential component. In "Gray Nights" those two extremes meet and we might emerge with a decision in the morning light. Which event might have caused these thoughts however is entirely up to the listener.
Do you have a big goal that you want to achieve as a band? Or do you have a higher mission or a message that you want to convey with your music? What is your motivation?
The big goal that we might be chasing for the rest of our time is to create things we are proud of, pieces of music that touch us and others in some way. We always want to aim higher and improve our musicianship qualitatively, but in the end it's the song that counts and the wonderful memories we made on stage.
You have already performed many concerts in Austria. What was your best performance, a highlight? Or what was an interesting or funny experience at a concert?
Among our favorite aspects of performing live is how much effort Michi and Lisa put in their stage outfit/makeup/hairstyle - and you'll never know what comes next! One time Lisa came with hair like Robert Smith from the Cure, that's definitely a fond memory! Also, every year in summer there is the "Royal Bäcker Hall" Benefizkonzert where we love playing if possible. They arrange for amazing locations, like one time the Granitarena in Plöcking. With the stone amphitheatrical space, we felt like we were Pink Floyd in Pompeii. And we could contribute to a good cause as well!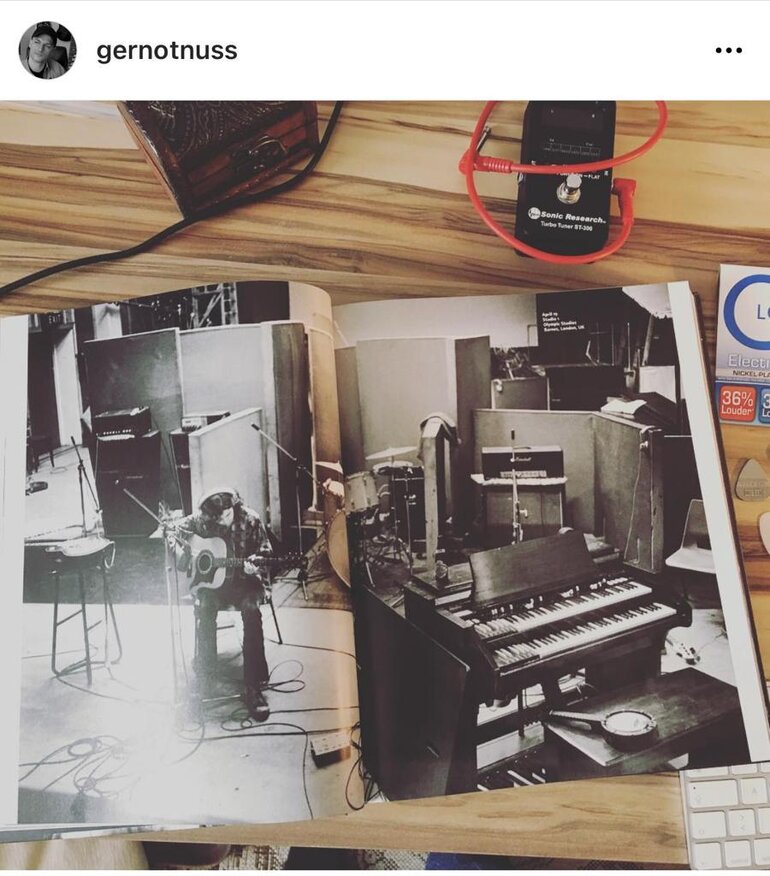 What is your next Project? Can you tell us already something about it?
At the moment, we are working on a music video for our song "Easily" that will show our chemistry as a band in the rehearsal room as well as on stage. It will be the perfect video to get to know us and our passion for music and it's coming out in the beginning of June! On 10th June we are playing in the Rockhouse Laakirchen at 8 pm and afterwards we will continue to work with new material, improving our sound and maybe even producing independently with our own studio setup.
I saw a photo on your website (nightvoc.at) of your guitarist wearing a Led Zeppelin t-shirt. We are hughe Zep fans too. Do you have anything to say about Led Zeppelin? Having met Jimmy Page in London a few years ago, I would be very interested in your personal connection to this band.
We all like Led Zeppelin, but Gernot especially does. He is sending the following picture (picture1) with the words "Any more questions?". I think Zep influenced a whole generation of guitarists and Stairway to Heaven is one of the classic pieces everyone learns when they start. It sticks with you, and in a way it stuck with us as a band. In times where it has gone out of fashion, we still choose to keep e-guitar, drum and organ solos in our sound, because that is just how we enjoy playing!
The last few years have not been easy for us musicians or bands. Do you have a message for the future or for the coming days?
Stay strong and don't lose sight of your passion! Sometimes the "world is dark" (ha, ha), but at the end of the day, art brings us together, so let's celebrate it!
Thank you for the interview and for the insight into your band. We wish you all the best, lots of fun and success for the future!
photos@nightvoc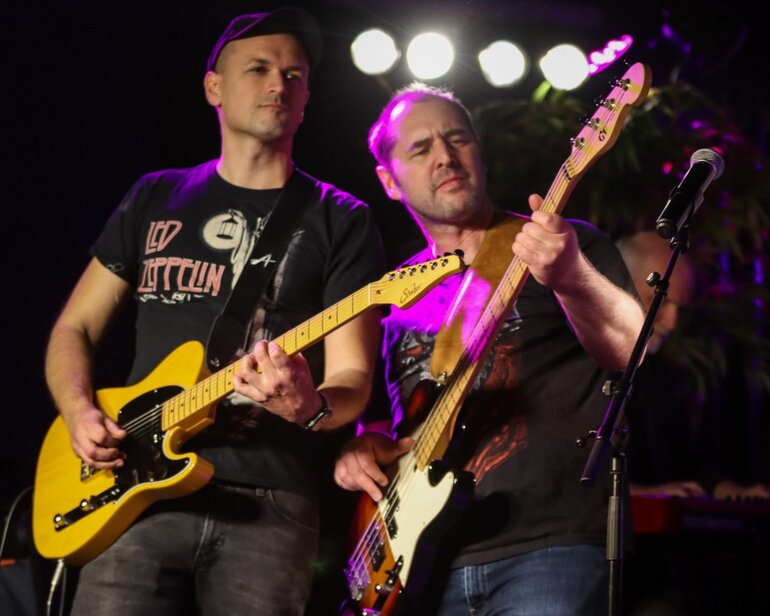 There are no reviews yet.